Microsoft Excel, a multipurpose spreadsheet solution, has become a favourite tool for millions of individuals.
"Satya Nadella, Microsoft's CEO, maintains that Excel is still the one Microsoft product that stands above the rest — and 750 million knowledge workers worldwide support that claim every day."*
The three most important features of Excel according to the Microsoft website** are
Turn data into insights
Get a better picture of your data and
Work better together
This highlights that Excel is focussed on data management.
However, can Excel be a comprehensive solution for project management?
Managing a project means handling all the processes and activities which result in successful on-time completion of the final project deliverables to the customers.
The project processes as defined by the PMI, PMBOK ®6 are summarized in the following diagram. These include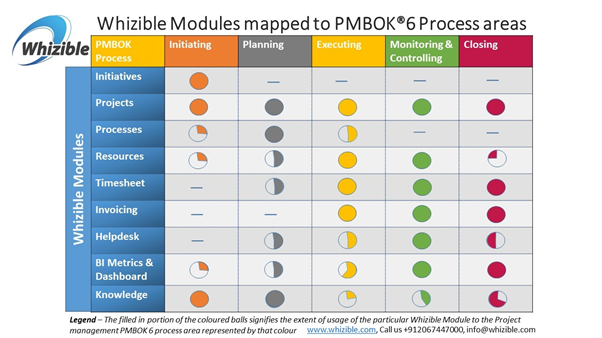 Excel can be used for some of these tasks, which involves a lot of manual work to generate reports, etc.
Some examples when Excel can be used effectively to manage projects are
In a small firm operating from a single office or
A medium-sized firm working from different locations but have

Cloud-based Office 365
All project teams have access to 24-hour high-speed internet
The projects are simple in nature
Project portfolio is small in number and complexity

The team leaders have spare time to analyse the project data stored in Excel manually, create customized graphs and prepare Powerpoint reports to present it to the project manager, CFO and PMO
Accounting software tools were created, even if using Excel was an easy solution!
Excel is a spreadsheet software which can keep records of credit and debit, but you still need accounting tools such as Tally, Quickbooks, ZOHO Books to
manage accounting for your organization. However, the accounting software was created to automate the bookkeeping and MIS processes.
Similarly, teams need a dedicated, pre-configured, easy to use software for managing projects – small and large sized, simple and complex nature, spread over a single city or multi-countries, and hence project management software was created to improve upon the features provided by Excel.
However, very few project-based companies are using project management software
One of the reasons for these companies not trying a project management solution such as Whizible, could be that they may not be aware of the additional benefits this software offers.
Some of the benefits Whizible offers are
Increase billable resource utilization up to 12%
Decrease execution delays by up to 20%
Decrease effort to billing cycle by up to 60%
Why do companies still use Excel for managing their projects?
Common believes and practices amongst the project-based organizations
1. We don't need project automation software, we have Excel
Project automation software has many functionalities, whereby it integrates all the project processes, automates project databases, links resource management to projects, monitors project progress and generates individual custom dashboards for the CEO, CFO, Project Managers and teams.
Excel has limited functionality, so it cannot be used alone for project management. If you choose to use Excel for preparing project plans, you will still need software like Whizible to link these project plans to other processes of a project lifecycle
2. We can write project plans in Excel much faster, so why use a project planning tool?
Writing a project plan is the starting point in the planning process. The stand-alone plan is not of much help to a project manager. The plan needs to be linked with the resource database for doing resource allocation. The project plan needs to be automated for easy monitoring and generating metrics for dashboards and reporting.
Therefore, using a standard template and end-to-end software for managing project plans gives better value than using any stand-alone tool.
3. I can add, hide or delete any field, row or column any time as per my requirement and data availability and it will not impact others' work
For the entire project organization to work smoothly and seamlessly, all the project data needs to be stored using a standard template.
The flexibility of customizing your version of Excel may be easier for you, but it may not be an ideal solution for your company.
4. We can save our versions of Excel using different file names and later merge them to generate a combined report
This may sound easy, but believe me, merging various versions of the same data is the toughest job. It involves a lot of rework, takes enormous time and wastage of hours.
By the time the combined report gets ready for management review, it might be late and lose its predictive and corrective value.
5. I always set reminders to update my Excel file containing resource plan after checking the employee availability with the human resource department. I generally don't forget any scheduled update
True, you might be following the best practices, but automating them using a good tool, will free up your time and you will be able to use this time for improving your team's performance.
Project management software can also help you and your project teams achieve work-life balance, by substituting manual processes with automated end-to-end processes.
6. We keep one day a week to integrate all the schedules and plans of various departments before we make the weekly project report
I can see considerable savings in terms of total working hours spent on generating weekly project progress reports. If your entire team is spending a whole day just compiling reports and not working on the project, using a project management software instead of Excel will definitely
Improve your project reporting,
Decrease non-billable hours and
Reduce project completion delays
Using a project management tool will reduce managerial time spent on monitoring and reporting activities and help deliver the projects on-time, within budget.
To know more about the benefits of using Whizible project management solution, book your free consultation
Visit www.whizible.com
Sources used in the article
*source – https://hbr.org/2018/10/10-excel-functions-everyone-should-know
Subscribe to Whizible Blog