Whizible cloud-based project enterprise management software is a robust and customizable and can be integrated with the current ERP or project management platform used by the customer organization
SAP Integration case study
Organizations have legacy IT footprint and ERP software platforms such as SAP® are institutionalized and organizations depend on these in the long run. In such situations, the Whizibleproject enterprise management software can be integratedwith the existing SAP platform that the customer organization is using, in a seamless manner ensuring no data leakage. Whizible is a combination of the PSA (Professional Services Automation) and EPM (Enterprise Project Management) and offers much more than a mere project management technology framework.
MPP Integration video
Whizible is often integrated with Microsoft® Project which is mainly used to plan the project tasks. Whizible is the best complement to MSP (Microsoft Project) or MPP (Microsoft Project Planner). The tasks created in MPP can be integrated with the task list available in Whizible that includes not just the MPP but also tasks emanating from all other sources, for example, those coming from customer help requests or those generated by issues or simply organizational generic tasks. Consequently Whizible facilitates holistic capture of time and status of tasks; MPP or otherwise and optimizes resource utilization of the organization.
JIRA integration case study
Companies buy niche products which are focused on one or two processes or functionalities of the project management process. However, after implementation, they realize the limitations of using a stand-alone software that is not integrated with the organization as a whole. Whizible is the end-to-end software platform they need to connect all the functions of a project and creates a collaborative environment.
Companies that have invested in such a product, for example, JIRA by Atlassian, Zoho, Freshdesk or Smartsheet, etc, Whizible can be added to the existing software with ease to complement and complete the effective project enterprise management.
To consult with our Integration expert and discuss the feasibility of buying Whizible, please register here
or Call Our Helpdesk Number
Whizible Integration Approach
Online Integration – WhizTM Web Services
Offline Integration
Online – WhizTM Web Services
The Whiz™ framework extends its interoperability by exposing web services that could be consumed by other applications that wish to interact and integrate with applications built on the Whiz™ framework like Whizible SEM.
This way, applications like SAP, PeopleSoft, etc. could directly retrieve, add, delete and modify data using these web interfaces that the web service exposes.
Get web services for any page defined in the application.
Can be enabled/disabled for pages
Reference keys can be set for fields
All UI validations set on the page are implicitly applied
For reading/writing application data
Offline – File Integration
Source System has to create a file XML,CSV in a predefined template.
Source system must place the file in a common location.
Target system; using a Windows Services or an Executable scheduled on predefined frequency consumes the file.
Target system inserts the data from the file and logs the event in a log file.
WhizTM Web Services Architecture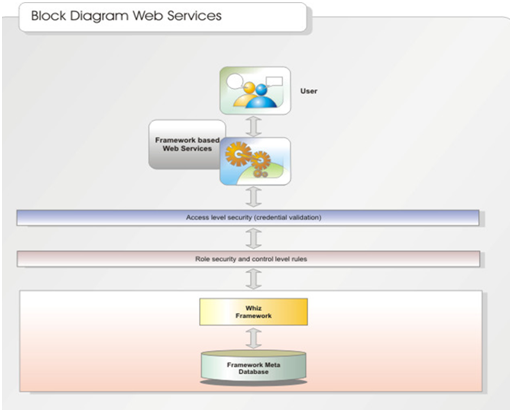 Offline Integration Context Diagram